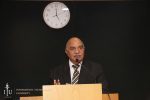 My entry into Certified Quality Assurance Professional was interesting. As I went to see Dr. Kamran Moosa as an inspiring leader in promoting quality standards in the country. On my request, he conducted sessions on blooms taxonomy and bringing quality in academia as part of Faculty Development Programs at University of Central Punjab and then at Information Technology University, Lahore. He is such a competent, sober, focused and gentle trainer as well.
PIQC his brainchild, now in full youth is amongst the few institutes established by professionals of Dr. Moosa's caliber. I have done two PhDs from leading universities of the world, earned gold medal in Masters from a local university, have more than 30 years of experience of serving prestigious national and international organization, and now at the age of 62 years could not resist the temptation of being graduated through PIQC. It was a unique and pleasant experience of learning from highly qualified and seasoned faculty like Mr. Muhammad Naeem Shehzad.
Majority of the faculty have both academic and industrial experience. Program is well structured and modules are comprehensive enough to cater for the students from a variety of backgrounds. Very well done PIQC management. Management of cafeteria through trust and self-service promote integrity and ownership.
I take pride in as alumni of PIQC and recommend perspective students to get graduate from the courses relevant to you. My best wishes for the Management team lead by Dr. Kamran Moosa and Mr. Muhammad Naeem Shehzad and enrolled students.
Dr. Muhammad Ramzan
Director QEC
University of Central Punjab