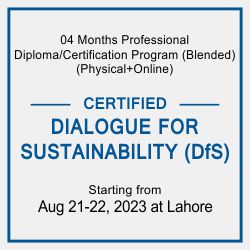 PIQC's Certified Dialogue for Sustainability Professional (CDfSP) is a 4 month professional Diploma/Certification offered in collaboration with GIZ Pakistan. Dialogue for Sustainability (DfS) is a Quality and Productivity Improvement Program initially started in the textile sector of Pakistan in 2014 by GIZ Pakistan. PIQC Institute of Quality, a Multiplier organization of GIZ Pakistan, offers training and process consultancy in Dialogue for Sustainability (DfS) projects also. (DfS) focuses on improving quality and productivity through various proven tools and methodologies.
This course provides a sound foundation and builds the skills and competence of the participants in Dialogue for Sustainability Methodology covering various tools and techniques of Continuous Quality and Productivity Improvement. It creates abilities in the participants to manage Continuous Quality Improvement with teams of all levels working in the organization, i.e. management, supervisors and workers. This course is taught by highly qualified instructors who are practically knowledgeable and experienced in the relevant fields. It is an ideal course for all those who wish to develop a sound foundation in the field of Continuous Quality and Productivity Improvement using DfS Methodology.
LEARNING OUTCOMES:
1.Understand and implement Quality and Productivity Improvement program using DfS Methodology.
2. Understand organizational roles and responsibilities in DfS, i.e. Change Management Teams and mini CMT
3. Understand and be able to apply Improvement tools and techniques
4. Understand the critical success factors for implementing DfS improvement programs in the companies.
COURSE CONTENTS:
1.Introduction
2. Productivity Improvement Tools
3. Quality Improvement Tools
4.CMT Exercises And Presentations
5. IMPLEMENTATION PROJECTS:
The participants are required to work on real life projects on selected topics and tools, from the organizations in which they are working. The projects will be of a practical nature and should be completed within the stipulated time frames. A project report will be submitted in accordance with the laid down criteria, format and coverage.
TEACHING MODE AND STRATEGIES:
This is a professional blended (Hybrid) course with both On-Campus and Online sessions. It involves a number of higher-level instructional methodologies and skill development exercises. The course is spread over four months to allow intersession study and practical real-life exercises. Participants will have to carry out timely study, investigations, and assignments in their production and quality areas to grip the subject. Discussions in the class are focused on the key points, critical thinking, experience sharing of fellow professionals and building professional maturity.
COURSE MATERIAL:
Course material, class notes and slides will be provided by trainers in hard/soft form.
PRE-REQUISITES:
Graduation in any field with good academic results
CERTIFICATION:
Qualified participants will be awarded with a Certification upon completion of course material, as well as qualifying the exam and the assigned project who will be proficient in QA and its related activities.
Duration: 4 Months
Venue: Lahore