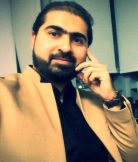 Humayun Salam, Mngr Materials Management, Al-Razi Healthcare, Lhr
No doubt, PIQC has established its name as one of the leading Quality Education providers in Pakistan. My experience at PIQC was amazing and filled with the required theoretical and practical knowledge i was looking for as a Supply Chain Professional of modern era. The faculty was industry specific, focused and dedicated which not only imparted the latest industry knowledge but also inculcated in us a sense of further study and research in our specialized areas.
The CSCP course has not only polished my existing knowledge and skills but also helped me to identify and cover up the gaps. I am confident that CSCP will help me a lot in grooming my professional career.
Its an honor for me to be a part of this prestigious institution. I wish lots of success to PIQC, its faculty and students.
Best of luck
Humayun Salam
Manager Materials Management
Alrazi Healthcare