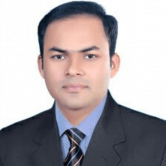 Shahzad Aslam, Research Scholar at University of Shanghai, China
"Instruction" ends in the schoolroom, but "Education" ends only with life, that makes a person how to lead and how to serve the humanity. Education is not preparation for life; education is life itself. And no-doubt PIQC is a hope towards a world class quality education with his competent management, like Dr. Kamran Moosa, and Sir Naeem Shehzad are well professionals and most experienced persons. Also having other well trained faculty member's dual in academic and industrial point of view. It has been a wonderful experience being part of the PIQC. The interactive learning was enriched with real life examples and case studies by competent faculty. The classroom environment and opportunities to participate in industrial visits were highly remarkable, through this institute I am able to get a Foreign Government Scholarship in Ph.D. Energy & Environmental Engineering at Shanghai University, China. And here working as a Research Scholar. PIQC and its management are the shining like real star in our education stream.
Best wishes for PIQC.
Engr. Shahzad Aslam (Gold medalist)
Research Scholar at University of Shanghai, China